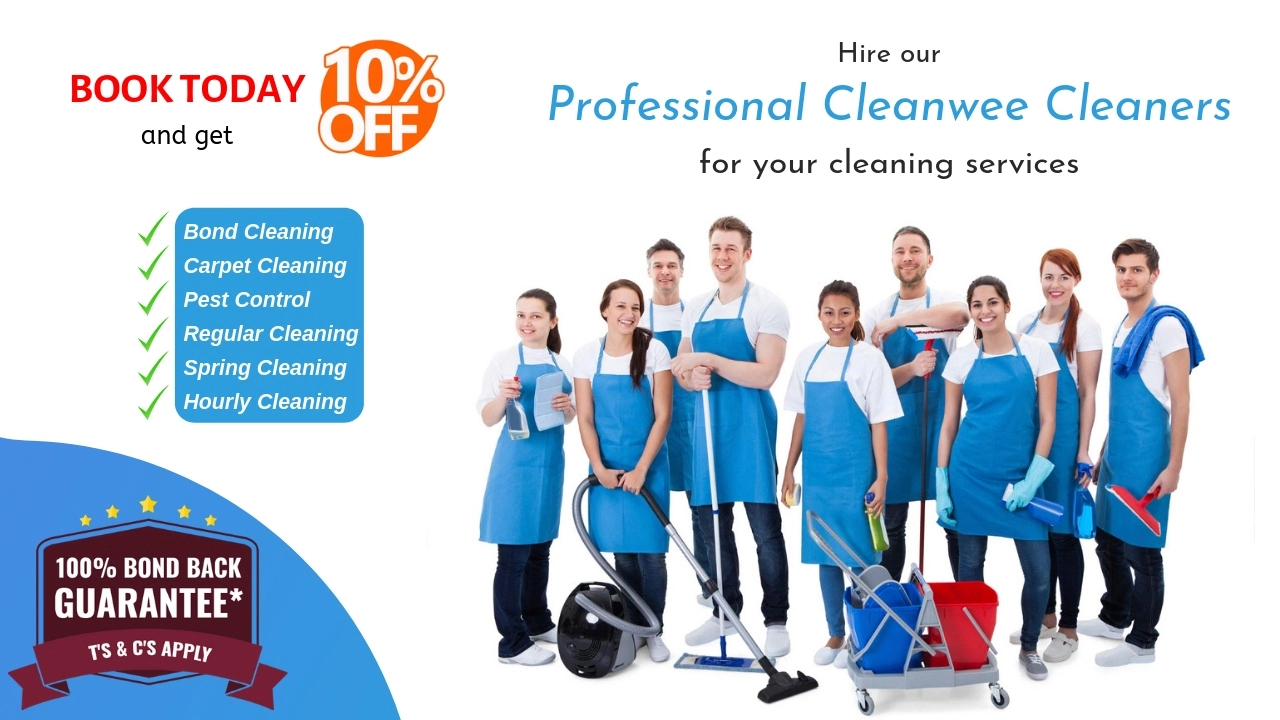 Book Now Pay Later!
6 Month Interest Free
Cleanwee Cleaning "Best Bond Cleaning Brisbane"
Cleanwee Cleaning Services providing the best cleaning services of residential and commercial premises in Brisbane and overall surrounding areas from past 10+ years. Here, we are helping busy peoples with our professional cleaning services in Brisbane. Our trustworthy and friendly cleaners team will deliver impeccable cleaning services across Brisbane. We give you the freedom to spend less time in cleaning and more time with your loved ones. Our team of cleaners is well-experienced & professional, who performs his job in an effective manner and always ready to help you 24 x 7. We also conduct regular quality-control check across our local team to perform the best job. Give a chance to our professional team of cleaners to build the trust of you.
OUR SERVICES
We provide one of the most flexible, reliable, customized, and best cleaning services for residential and commercial premises in all over Brisbane. We're ready to help you now with.
WHY CHOOSE CLEANWEE
We are one of the leading cleaning companies in all over Brisbane that offer high-quality cleaning service at affordable price. When you're looking for professional bond cleaning services, you want to make sure that you find a team that can accommodate your budget, schedule, and cleaning preferences. Cleanwee provides thousands of families across the country with industry-leading services tailored to their specific needs.
Our Approach
We provide our clients with the highest quality cleaning services delivered in a safe, professional, considerate and harmonious manner.
We also provide a safe and secure working environment and monitor the health of all our employees and the workforce.
We always carry out all activities in a sustainable and environmentally conscientious manner.
Outstanding Reviews
Book a Cleaner Today
" Get your weekend back with our regular, catchup or once off cleans "
What Our Clients Say
Our primary objective is to build trust of our precious clients by providing high-quality cleaning service across Brisbane. We always focus on customer satisfaction to build long-term relation.
Such a professional cleaning Company. An Amazing bond clean was done on our property and left so fresh and clean. Would Highly Recommend Cleanwee you will not be disappointed.
Annette Blythe
Wonderful cleaning! Cost-Effective Service! Very polite and professional team of cleaners, I'm satisfied with carpet cleaning service. Kind people! Would recommend them.
Leah Norton
They did an amazing job of bond cleaning and steaming cleaning. Very professional and instant responses when asked any questions. I Would recommend to everyone.
Raj Dhother Nagra
Best bond cleaning brisbane, offer cheapest among all 100% good work just give a chance because they clean as their own home cleaning best cleaners recommended to all
Sukha Singh
Cleanwee team cleaned my whole entire home from top to bottom and they did such an amazing job, very professional. I would recommend their services to all.
Caroline Salelea
Best bond cleaners brisbane, Performed good cleaning and ensured that our bond money is paid back in full. I strongly recommend using cleanwee cleaning service to everyone.
Siddharth Aggarwal